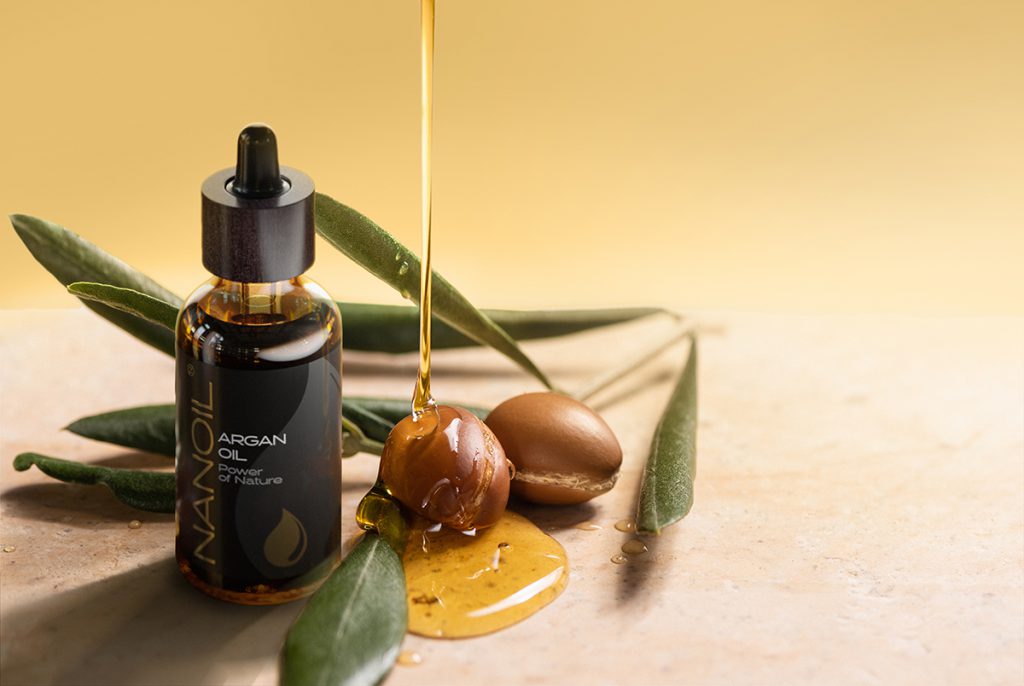 NANOIL Argan Oil – one product, many benefits. Get to know its properties!
Also known as the "liquid gold of Morocco", argan oil is a source of valuable nutrients, vitamins, and minerals for the skin and hair. This organic cosmetic can help you maintain youthful skin, shiny hair, and healthy nails. The power of nature hidden in argan oil can work wonders! Find out why the NANOIL argan oil should get in your bathroom cabinet.
---
Argan oil – where does it come from?
The oil is extracted from Argan trees, which grow exclusively in Morocco. Called the 'liquid gold" by the Moroccans, it owes its name to its golden colour and various uses. This cold-pressed oil has a light texture and a delicate, nutty smell.

How does argan oil work on the skin?
Thanks to the content of unsaturated fatty acids, sterols, high concentrations of vitamin E, squalene, and carotene, argan oil stimulates the skin cell renewal process and increases the production of collagen and elastin, which makes the skin visibly smoother, firmer and provides a youthful glow. The antibacterial properties can combat acne and skin imperfections. It's safe and suitable even in the case of AD and eczema, relieving their symptoms. Argan oil effectively protects the skin from harmful elements like UV rays, cold temperatures, or pollution. Regular application of the oil to the face improves and brightens the skin tone and deeply moisturises it. A body massage using the oil can banish the orange peel skin and stretch marks. It is also a remedy for sunburn and irritated skin. Added to hand cream, castor oil can soften dry cuticles, strengthen nails and regenerate the skin.
Argan oil for the face
The NANOIL argan oil is a great addition to both day and night creams. Applied directly to the skin, it works as a natural face serum. By combining the oil with our favourite skin care products for daily facial care, we boost their nourishing effects. The oil should be applied before going to bed and just before the face cream, also around the eyes. The safe and 100% natural ingredients of NANOIL oil make it great for the eyes – as a thickening serum for brows and lashes to promote their growth. It can be applied using a clean mascara brush. Argan tree oil strengthens, moisturises, and nourishes weak lashes and brows, and prevents hair loss.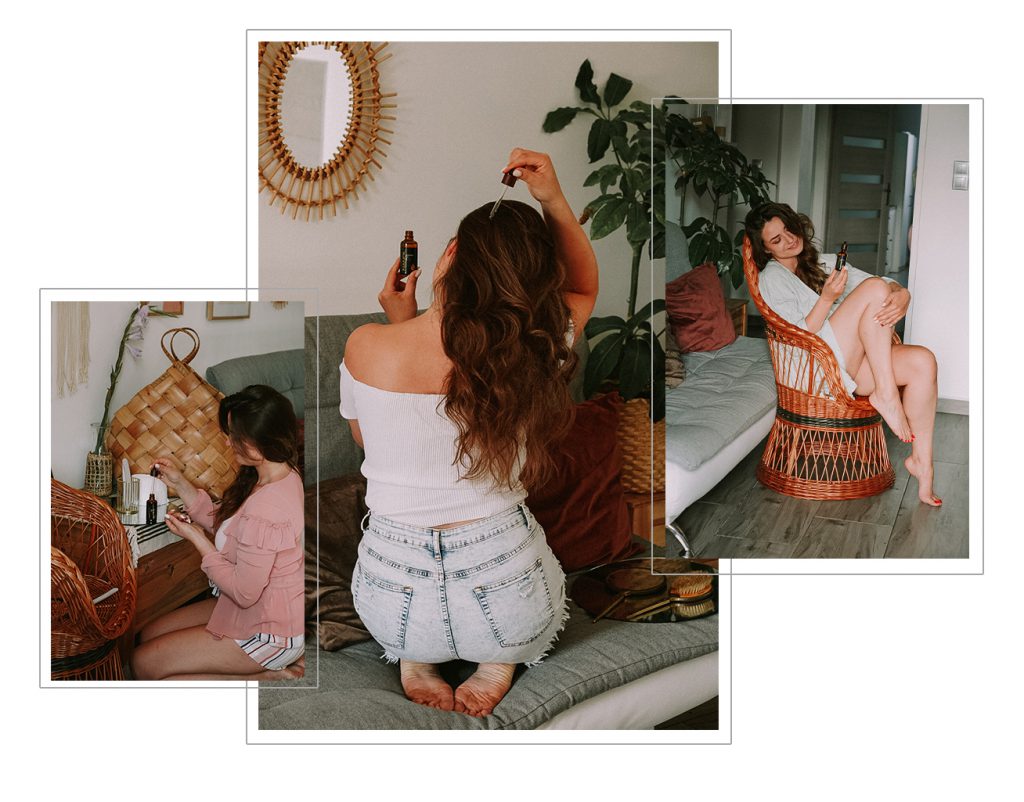 Argan oil for hair
The active ingredients contained in argan oil have beneficial effects on hair, scalp, and ends. This is one of the most popular oils for hair oil treatment. Why? The NANOIL Argan Oil effectively rebuilds the hair structure, protecting it from further damage. It deeply moisturizes the hair, boosting its natural healthy glow. This lightweight oil can also be used as a serum for dry and split ends. It doesn't overburden the hair but protects it from mechanical damage. A few drops of essential oil applied to the entire length can prevent frizz and static and provide effective sun protection. Argan oil is an ingredient in a huge number of hair masks, conditioners, and shampoos available on the market. It's recommended by professionals as a remedy for weak damaged colour-treated hair. Before styling your hair with hot appliances rub a small amount of oil into the hair to reduce the risk of damage caused by high temperatures. Argan oil used as a rub-on conditioner stops hair loss and nourishes the scalp to ensure that hair grows healthier and thicker. It is also a proven method to promote hair growth.
Argan oil – uses
The NANOIL argan oil is a precious source of vitamins and nutrients enclosed in a small elegant bottle. Just a few drops of this "liquid gold" is enough to effectively moisturise and regenerate hair and skin. The handy dropper allows you to dose the right amount of oil, which can be added to face creams, body lotions, conditioners, masks, hair oil mixtures, and body massage oils. It also works as a natural face serum and it can be applied directly to the skin. Learn more about the product: www.nanoil.us.
---