Dr Irena Eris created a new series of cosmetics containing Vitamin C. This set is designed for all the women who expect a little bit more from a cosmetic. The collection features Energizing Emulsion, Vitalising Cream, Revitalising Cream, and Pore Minimizer Perfecting Serum.
Day Cream and Emulsion VitaCeric
Regenerating Cream and Vitalising Serum is recommended for all skin types, regardless of the age. Dr Irena Eris cosmetics serve well those who struggle with discolorations, wrinkles and dullness of the face. Also, those who have dry, combination or oily skin type will make a good use of both products. It's recommended to apply these VitaCeric cosmetics to face, neck and cleavage every morning. Both cosmetics are closed in 50 ml jars.
The main task of these products is cleansing and evening skin tone. Apart from that, VitaCeric cream and serum replenish dermis with moisture and energize complexion, highlight discolorations and smooth skin surface. Thanks to Vitamin C content, the cosmetics are able to combat free radicals and delay, at the same time, skin ageing processes. What's interesting, both products can be used as a make-up base.
Night Revitalising Cream VitaCeric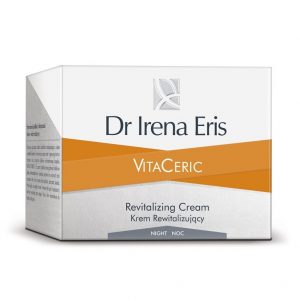 New cream by Dr Irena Eris is designed for treating all skin types of all ages. It has to be applied evening to precisely cleansed skin until the desired outcomes are easy to notice. The product is closed in a 50 ml jar. Night Revitalising Cream's main task is freshening up, evening skin tone and revitalising face skin. Additionally, the cream firms, smooths wrinkles and rejuvenates. It's perfect as an overnight treatment.
Pore Minimizer Perfecting Serum VitaCeric
Again, this cosmetic is recommended for all skin types no matter the age of a user. However, the thing that differentiate the product from the above-mentioned cosmetics is the capacity. Pore Minimizer Perfecting Serum is closed in a 30 ml package that features a pump. The prime task of this product is turning skin matte, stimulating blood circulation and revitalising complexion. How does VitaCeric serum work? It unclogs skin pores, reduces their visibility and smooths skin surface. Moreover, Pore Minimizer Perfecting Serum delivers anti-oxygenating and reinforcing action.