Shiny hair that attracts everyone's attention. What do you need? 30 days of regular hair oiling, and the diversity of essential fatty acids, vitamins and minerals offered by each version of Nanoil for different types of porosity. We are taking hair care into our own hands! Make use of natural oils to keep your hairdo young.
We tend to forget that – similarly to our skin – our hair also undergoes inevitable changes. Hair bulbs deteriorate at the age of 25. That is why, there is a big difference between kids' and adults' hair condition. Hair follicles work less efficiently due to the passage of time. We have less new hair whereas the hair that grows is weak, dull and thin.
Healthy and young-looking hair
We can fight off ageing processes without spending lots of time or money. All you need is minimum effort, a little knowledge and a suitable product. The cosmetic is crucial: if you apply a product unsuitable for the needs of your hair, it will bring an adverse effect. Young-looking hairdo is not only about superficial effects but also health inside of hair.
make your hair healthy thanks to natural Nanoil hair oils
Nanoil hair oils are growing in popularity. Nanoil comes in three versions: for low, medium and high porosity hair. There is one thing they have in common: reaching the source of the problem (disorders in hair structure) and being all natural.
Check why women love Nanoil hair oils! Identify your hair porosity and choose an oil that suits your needs!
ACTIVE INGREDIENTS – all-natural
Nanoil hair oil is free from parabens and silicones. There are no damaging alcohols or substances that could harm your hair. Each of the three versions offers the best selection of vegetable oils that are made of fatty acids essential for a given hair type. The oils are enhanced by some extra substances.
Each of Nanoil series contains:
argan oil – protects from heat styling,
maracuja oil – inhibits hair ageing,
kerastim – stops hair loss,
baicapil – stimulates hair growth,
vitamin E – works as an antioxidant,
UV filter – protects from harmful UV radiation.
Nanoil for low porosity includes also: cedar oil, coconut oil, castor oil, babassu oil, monoi oil, shea butter, cupuacu butter, vitamin A and panthenol.
Nanoil for medium porosity hair has been enriched by: macadamia oil, marula oil, jojoba oil, silk, coconut oil and vitamin A.
Nanoil for high porosity hair also offers: almond oil, evening primrose oil, avocado oil, cottonseed oil, keratin, lanoline, panthenol and silk.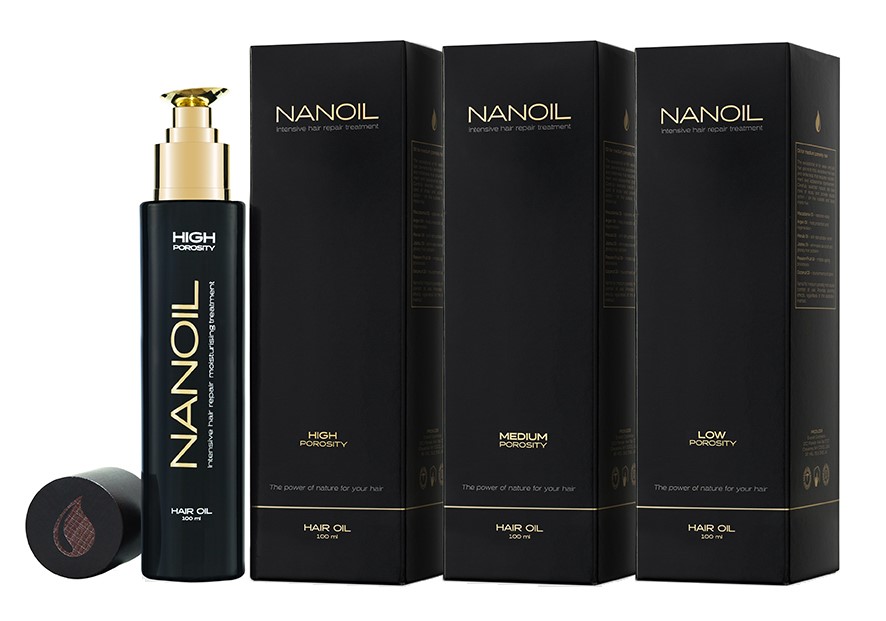 ACTION – personalized for your needs
An array of natural oils has a huge influence on the effects of Nanoil hair oils. Most of all, it is the one and only hair treatment that matches hair porosity (the condition of cuticle layer). The main task of this range of hair products is reducing hair porosity as much as possible, sealing the scales and repairing hair. Each version contains oils of perfect size of particles. Nanoil works both on hair and on scalp. It keeps hair healthy, properly hydrated and nourished inside and outside. The scalp works in a proper way whereas the hair is stronger, regenerated, shiny and silky smooth. Strands stop falling out, and grow more quickly than before regular oil treatment.
FORMULA – weightless and pleasant
Nanoil will work for all hair types because of lightweight formula and excellent absorption properties. It is non-greasy and non-overburdening. It will work even for fine and delicate hair. The golden formula coats hair with a velvety protective layer and penetrates inside. Fresh and very delicate fragrance creates a pleasant aromatic mist around your hairdo.
DIRECTIONS FOR USE – limitless
Do you know a product that can be used the way you want? Nanoil hair oils cause a revolution in hair oiling. The oils have been created to serve complex care so they are suitable for:
oiling your scalp,
dry or wet hair oil treatment,
oiling before or after washing,
overnight oiling (or only for 30 minutes),
oiling the entire length of hair (or hair ends only),
using prior to styling,
using a little during the day,
enhancing other products e.g. shampoos.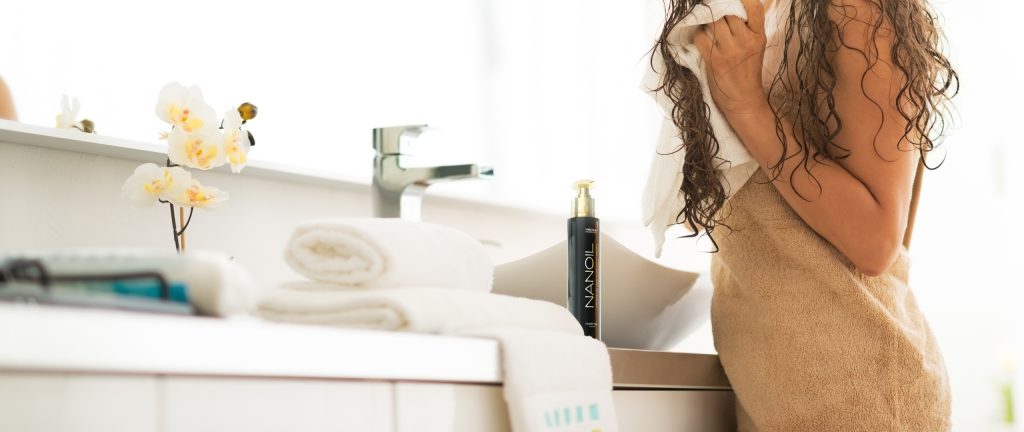 PACKAGING – elegant
When we buy Nanoil, we pay for something more than excellent ingredients and amazing effects. We often get products that bring effects yet look unimpressive. Nanoil for different types of porosity can boast about a perfect design. A very solid, black bottle is made of dark glass. It is decorated with a simple writing, dark wooden cork (marked with a drop) and golden, metallic elements.
You simply want to put the fancy Nanoil bottle on your dressing table. Apart from looking nice, the bottle is very handy and makes the application easy. The pump accurately measures out the oil.