Some call it reactive skin, others call it couperose skin. No matter the name you give, it's main concern is the spider veins that appear almost out of nowhere and won't fade away. The good news is that you don't have to book a visit to an aesthetic medicine clinic to deal with all these nasty problems linked with reactive skin. Reaching for the right skincare products should do. Right skincare products like a face serum, for example. But which one is destined for skin prone to broken capillaries? Nanoil Anti-Redness Serum is hands down one of such products.
Best face serum to treat broken capillaries
Face serum is the best thing you can give to your skin. Only this product is able to penetrate epidermis to work from within. This in turn means that face serum takes the role of a carrier for nutrients and other substances responsible for sealing and strengthening the walls of blood vessels. That's why adding a face serum to your beauty arsenal makes such a great idea.
How will you tell that the serum you're holding in your hands is good for so-called couperose-prone skin? Firstly, this type of product needs to have a soothing effect. Secondly, it must be formulated with the ingredients targeting broken capillaries. Thirdly, the serum has to provide protection from external aggressors. But most of all, such a product needs to be gentle to the skin, meaning that it mustn't be formulated with potentially irritating ingredients or allergens. Therefore, before you put a face serum into a basket, check if it:
doesn't contain any dehydrating alcohols.
has a lightweight formula that doesn't clog pores.
is made from plant-based extracts that play in tune with reactive skin.
is free from essential oils.
is water-based and fast-absorbing.
Relief for reactive skin? Nanoil Anti-Redness Face Serum
If you're in search of a soothing face serum that erases spider veins then you'll surely take an immediate liking to Nanoil Anti-Redness Face Serum. Why? Because it contains a blend of the finest plant extracts that handle two tasks in a single step. It deals with all the problems typical of reactive skin (e.g. redness, stinging, broken capillaries), as well as moisturizes and increases skin's resistance to external factors that often trigger the adverse reactions you want to steer clear of.
Finest plant extracts to combat broken capillaries
One of the biggest pluses of the Nanoil serum is its composition, which is the blend of naturally-derived ingredients able to seal and strengthen the walls of capillaries. It also deals with the consequences that oxidative stress has on the skin. Additionally, Nanoil Anti-Redness Face Serum also works as a moisturizer and an anti-ageing product, being at the same time gentle to reactive skin. Inside a dark-glass bottle you can find:
Lime tree extract – soothes irritations, strengthens the walls of blood vessels, prevents inflammation
Cypress cone extract –  nourishes, moisturizes, prevents irritation, seals fragile capillaries
Chestnut bark extract – strengthens the walls of blood vessels, prevents spider veins
Boerhavia Diffusa root extract (also known as Punarnava) – rejuvenates, soothes skin, brightens discoloration, relieves irritation
Propanediol – locks water inside the skin for long-lasting hydration
Lecithin – nourishes, leaves skin soft, protects against transepidermal water loss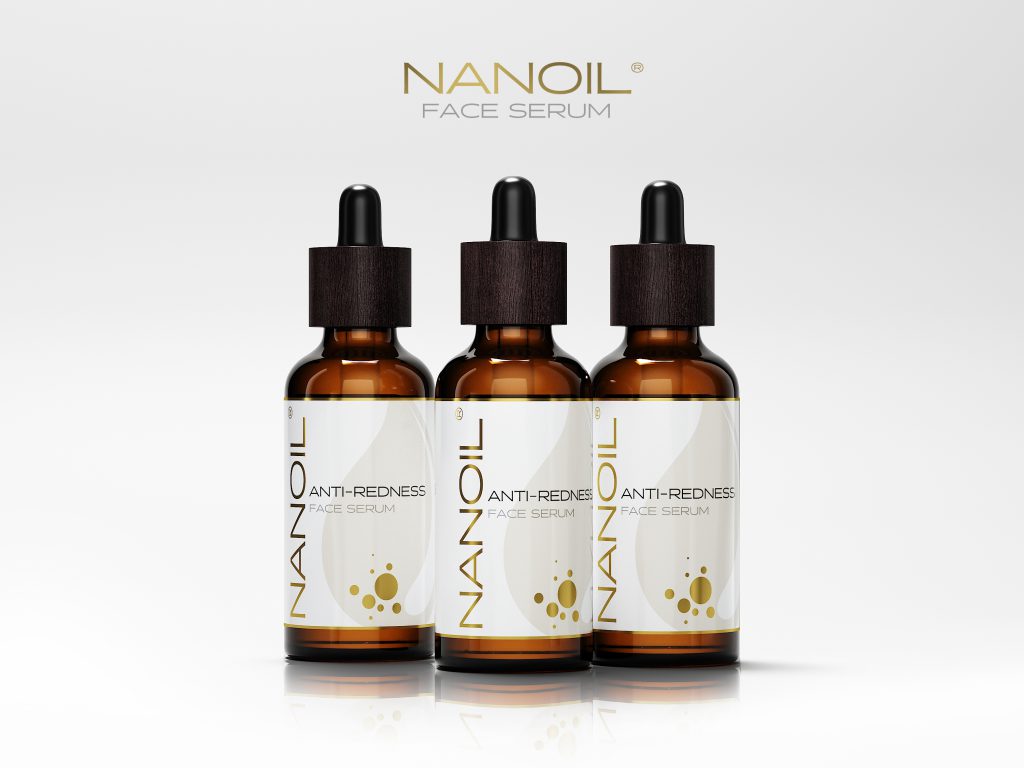 Who is Nanoil Anti-Redness Face Serum recommended to?
Nanoil serum is recommended mostly to redness-prone skin at all ages. This doesn't mean though that it won't deliver positive effects to other skin types. Actually, Nanoil Anti-Redness Face Serum is also good for acne-prone, reactive, sensitive, dull and fatigued skin. Owing to its rejuvenating properties, this serum also works as an anti-ageing product.
Benefits of using Nanoil Anti-Redness Face Serum
If you're looking for quick effects in the form of relieved skin, reduced redness and zero spider veins, then Nanoil Anti-Redness Face Serum is your go-to. This serum is enriched with ingredients that are in charge of reinforcing weak capillaries, thus minimizing the risk of vascular lesions. Additionally, Nanoil serum boosts skin's resistance to harmful external factors to prevent redness and bring out the natural skin tone. On top of that, this skincare product slows down ageing, thus keeping skin younger for longer. Simply put, Nanoil Anti-Redness Face Serum makes skin calm and better-looking in all conditions.