If you are one of those ladies who expects something more from beauty products than just a pleasant aroma, and if the aspect of hair care is important to you, then you surely understand the meaning of heat protection. Apart from using hair masks and oils to improve the appearance of your locks, you also need to protect them from the adverse effects of high temperatures. How to do so?
Simply reach for a thermal heat-protectant spray. It would be even better if you managed to find a product that doesn't only form a protective coating over your hair, but also supplies it with nutrients. Achieving these two effects due to just one cosmetic is possible, provided that you choose Nanoil Heat Protectant Spray. It appears that with just one product you can deal with a few hair-related issues in a single step. Check out how you can do this!
5 Reasons Why Nanoil Heat Protectant Spray Is Perfect for You
REASON NUMBER 1: High temps will cause no harm to your lovely tresses
One of the strongest suits of Nanoil Heat Protectant Spray is the ability to isolate your hair from the extreme temperatures that reach up to 440 Fahrenheit / 220 Celsius. Indeed, this is how far your blow dryer or straightener goes. Actually, this is exactly why this product was brought into existence in the first place. How does it shield the hair from high temps? Nanoil Heat Protectant Spray envelops shafts with a weightless and insensible coating that blocks heat from messing up with your locks. By using this product you also lock the moisture inside the hair, meaning that you also take control over hydration levels. Isn't it great?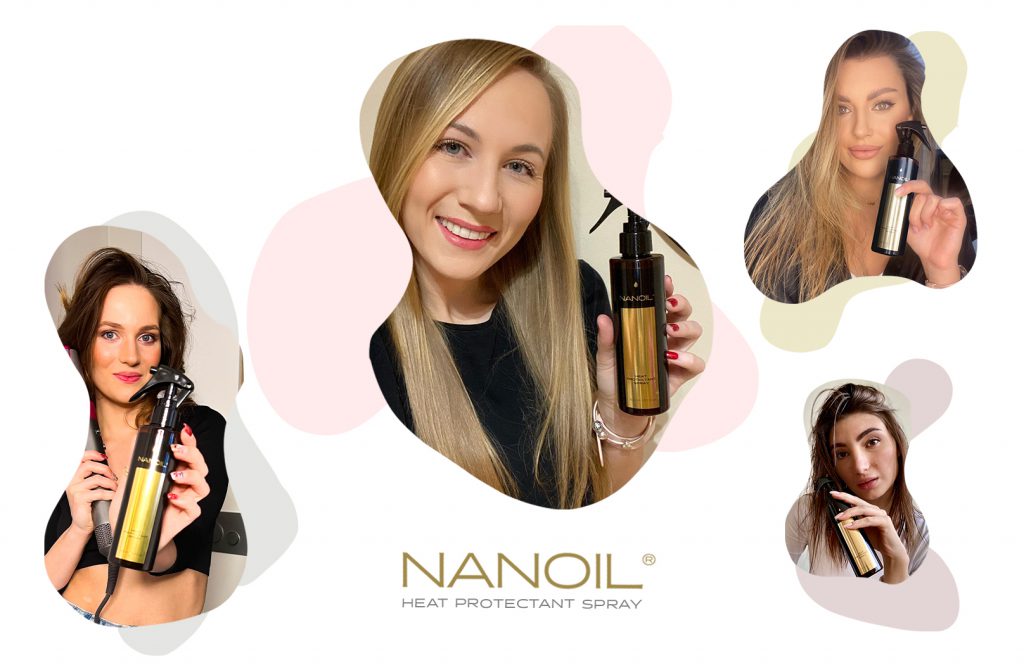 REASON NUMBER 2: Your hairdos will remain perfect throughout the entire day
Do you want your straightened, curled — or in general — styled hair to stay in place for the whole day? Don't worry because Nanoil Heat Protectant Spray will get on top of that. This product ensures long hold so you can run your errands and enjoy an afternoon meal with your friends without bothering that you need to do some touch-ups first. This thermal heat-protectant spray not only improves manageability of your tresses but it also keeps your hairdo neat and cute throughout the entire day.
REASON NUMBER 3: No more frizzy hair, no more static hair
Does high humidity leave you with frizzy hair? Is it hard for you to take control over the strands on rainy days? Perhaps you keep fighting off this irritating static hair that rises up and floats around your head every time you take your hat off? Here's when Nanoil Heat Protectant Spray comes in useful again. When you spritz it over your tresses in the morning, you can be sure that no humidity or static will have a hold over your perfectly arranged hairdo. It's the end of frizzy and static hair.
REASON NUMBER 4: Instantly smooth, glossy & sleek hair
If you count on immediate hair appearance improvement, then reach for Nanoil Heat Protectant Spray. This thermal heat-protectant spray is an amazing hairstylist closed in a bottle with an atomizer. Within a few seconds it makes your strands silky smooth, bouncy, full of shine, soft and super pleasant to the touch. Nanoil's spray delivers these effects from the very first time you apply it. This is a weightless mist that boosts shine and gives you perfectly-looking hair, instead of weighing it down which is a common side effect of using regular heat protectants.
REASON NUMBER 5: Nourishment & repair due to silk proteins
We left the best for last: Nanoil Heat Protectant Spray is also able to repair and nourish hair! This cosmetic is a synonym of heat protection combined with a deeply nourishing treatment for amazingly-looking hair. Silk proteins that are pumped into Nanoil spray are in charge of shielding your strands from mechanical damage. Once you introduce Nanoil Heat Protectant Spray to your daily hair routine, you will quickly forget what brittleness or dullness are.