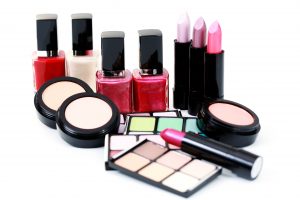 1. Oil-Control Blotting Papers
If your face skin can be described as oily and if it's acne-prone, then surely you'll make a good use of oil-control blotting papers. These thin slips of paper gather the excess of sebum as they counteract skin getting too oily. Thanks to their tiny size, oil-control blotting papers will fit into each make-up bag and handbag. Take them on a trip, to work or to school. How this revolutionary make-up invention should be used? Take one slip of blotting paper, press towards your face and then powder the very spot. Your make-up will be just as new.
2. Fixing Powder
Each of us will find this cosmetic useful especially to fix the make-up, bring out the natural beauty and to matte the complexion. Choose appropriate shade of the product and then apply a thin layer of it to the face. The better grinded the powder is, the less visible it's when applied to face skin. Thanks to the light consistency, it blends well with a complexion's shade, camouflages imperfections and creates the effect of natural make-up. You can apply it using a puff, a brush or a sponge applicator.
3. Matte Liquid Lipstick
Colour shades, easiness of application, matte finish – this is how we can describe matte liquid lipsticks. They look like lip glosses and they are also used alike, yet the outcome they produce is way better. Usually, such cosmetics are durable, have delicate consistency and amazing shades. If you manage to find a matching lipliner of a little bit lighter shade, your make-up will look really astonishing.
4. Waterproof Mascara
It's useful both in the summer and in the winter. Waterproof mascara will pass an exam at the gym, while skiing and any other place where make-up can be easily destroyed. In all drug stores you can find mascaras of eyelash extending, thickening and curling features, which at the same time are resistant to water, sweat as well as low and high temperature. Remember to coat the eyelashes precisely, and before applying another layer, wait until the previously-applied get a little bit dry.