Volume Reveal Mascara became this season happening. What is about Bourjois mascara that makes every woman want to have it, use it or at least try it?
Can mascara manufacturers surprise us with anything at all these days?
Action of Volume Reveal is based on precision and perfection, both when it comes to ingredients (substances that condition and moisturise lashes) and the appearance of mascara.
Mascara has unusual packaging: it's triangular and relatively big. The wand is convenient and on the one of packaging sides was placed small, long mirror with triple zoom. It is expected to ease make-up execution and make us see even the smallest eyelashes. Then to the action enters silicon wand with classical, straight shape and quite dense bristle. These are arranged in two rows with various lengths. Thanks to it the wand reaches not only the long lashes, but also these small, short and barely visible. This allows extremely precise eye make-up. Such arrangement of bristle along the wand catches every lash and makes them longer by evenly covering them with the mascara. As a result the entire lashes root line is more dense and the look more expressive and deeper. Intense black colour makes the iris gain intense shade.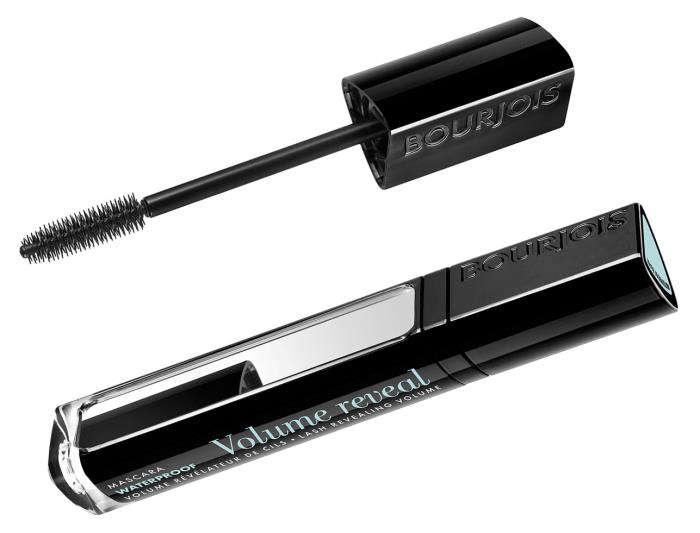 The wand is not too small nor too big. This makes work with it really simple: no smudges or lumps are left on the eyelid or brow ridge. Thanks to this mascara we also gain certainty that every lash is covered with the product. The top of the wand has shorter and less frequently arranged bristle, that in comfortable way allow us to apply mascara on the eyelashes in the eyes corners and on the lower lashes root line. The wand in the mascara is soft and elastic, so it can reach all lashes and fit to their shape and natural predispositions. You do not have to worry: such wand will not pull lashes.
The texture of mascara is rather runny, but perfectly matches the silicon wand. While performing make-up you can work on wet mascara and apply another layers to increase length and volume with no lumps or so called spider legs.
Bourjois Volume Reveal Mascara is available in traditional and waterproof version. Both require quite strong make-up removers. Organic or based on natural ingredients make-up removers may not be able to remove even the classical version. For waterproof mascara necessary is special, bi-phase make-up remover.